At times, we often meet terrible nightmares which are seemingly very close to us, and when waking up, we find it extremely difficult to forget them. Many people suppose that these bad dreams may reveal something related to our life. Hence, Nightmares and Dreams Interpretation are clearly good to explain and disclose secrets the nightmare wants to tell us.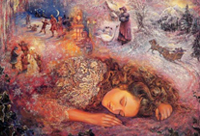 Maybe, each of us has ever experienced at least one nightmare in life. Then, what is it? It's better to give out a possible definition of it. It's exactly a very distressing dream that brings everyone having it a feeling of fear, anxiety, and even panic while he is in sleep. Although many scientists said that the nightmare was just an intense negative emotional response from the person's mind, and it may stem from drugs, alcohol, sadness, stress, and other physical causes, many people still believed that it's related to some predictions about his future.
Some Common Nightmares and Their Interpretation
Being Attacked and Chased: it's probable to assert that here is one of the popular nightmares many people have ever experienced the most. In that dream, we will be chased or attacked by giants, animals, frightening forces, or paranormal critters. It's assumed that it's the manifestation of a fear when we must confront something in life; it may be an unruly teacher, a pushy boss, an abusive parent, or even a bad relationship. Possibly, the feeling of being chased may be a sign of troubles we can not overcome in life.
Falling: some nightmares with the falling element signify that we are in the anxiety over our personal life and control of ourselves. It's revealed that this type of dream is regarding finance, careers, relationships, or even abuse. The feeing of falling in the dream may be the feeling we are confused to control hard situations in our life.
Being Trapped: Nightmares relevant to being trapped are mentioned to imply individuals who have the claustrophobic anxiety and may be in a situation in which they carry a fear of staying in small space. In this type of dream, they are unable to move anywhere and seemly choking. These people in reality have the high likelihood of being trapped in problems about finance, negative relationships or jobs.
Teeth Falling Out: Similar to nightmares with being naked in public, this type of dream is the representation of turmoil and anxiety about being judged by others on our appearance.
For further information about Nightmares and Dreams Interpretation, leave your questions here.
---